A full recruitment cycle
A process of staff recruitment is being not simple for a long time especially in an IT-sphere. If there is no skilled HR team in a company, a personnel agency can help.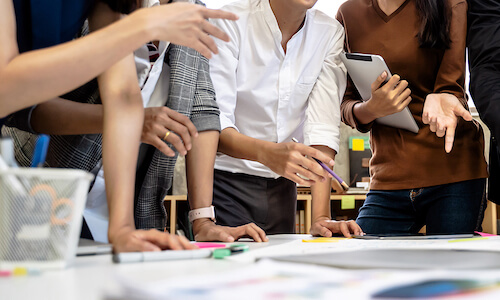 Recruitment choice stages are the following:
Request creation and position requirements analysis. Here one can see a basis for correct search for a particular person for the company: a head hunter gets aware of needed employee's functions, his place in a structure, major skills and those which can be secondary, requirements to a foreign language knowledge level and personal features helping a future worker to adapt in the company. If the requirements are processed not well at this stage, then a mistake possibility of choice get bigger.
Candidates attraction. Personnel agency head hunters use not only their large candidate base, but they also work with the candidates' market. IT sphere has a special attraction feature of a lot of work with passive candidates who are not looking for a job at this moment and are bounded with work relations with their employer. Difficulty of such a work is in developing a good rapport with the candidate, gaining his or her interest for further communication on the position. An individual approach to every possible candidate will be useful.
Creation of the candidates' number possessing the necessary skills. The head hunter makes a long list of people who could be needed by a preliminary assessment for the position by their technical skills (from a profile), soft skills and the English language knowledge level. This stage can be boosted by work with the personnel agency, because an existing candidates base lets create this list faster.
A complete assessment of the candidates for the position consists of several interviews:
Pre-screening by phone or online. The head hunter gets aware of candidate's motivators for changing a job, makes him or her be interested in the position, clarifies technical skills, checks the English language knowledge level and makes a short soft skills assessment.
An offline or online interview with a customer or his/her representative. It is good when the personnel agency's staff hold a preliminary meeting and discuss with the customer how the interview will be made and which role will be for each participant. Skilled head hunters may offer several interview formats and methods in order to make it the most informative, ethic, effective and make the candidate be more interested in the employer and position.
The second interview if needed. Some positions need few interviews: if the position supposes a lot of soft skills to be assessed or a task is needed to be done and discussed.
A necessary candidate choice. This stage includes a discussion between the customer and the head hunter helping to define advantages and disadvantages of every candidate, possible risks and ways of their reduction. A professional work here can help to prevent negative moments in future or even change requirements to the position, if the customer gets some insights after the work done.
Offer preparation is made due to the position description, wishes, candidate's motivators and employing company's possibilities. For the long-lasting partnership, it is important to take all the features revealed at the interview into account.
Candidates maintenance at a test period stage. If agreed by the personnel agency or there are own HR specialists in the company, a new employee should have an adaptation work: aims for that period must me set, clear and digitized if possible. The test period is one when the employee as well as the employer make a decision on whether they work together. A close work at this stage is a possibility of creating a strong team for a long term.
The recruitment process must de detailed and system in order to have a positive impact on the company's HR brand and help to find necessary candidates faster in future.